Horse trails in Istra - Croatia
Specialists in small groups and personal attention
Allow yourself to submerge into magical world of beautiful, lush Istrian countryside full of history, legends, magnificent scenery, fine food, wine and other home made specialities. Meet your guide Željko and his enthusiastic team with years of experience in horse riding and trail guiding. Relax and enjoy your horse riding holiday, riding good mannered but forward going and sure footed horses that live on our ranch. On our ranch you will have a chance to meet all of our 14 horses. All our horses are well-kept and live outside in large paddocks with various kinds of terrain which assures us that, from the young age, they learn how to cope with climate, be secure on trail and have enough moving even during winter months when they are on their deserved brake. High quality grass and hay are always available including the extra additional food according to their needs.
TREKKING TRAIL SUMMARY
Duration
8 days
Dailly riding
4 - 7 hours
Tottal distance
160 km
Price
1.100 € per person
Participants
4 - 6 persons
Minimal age
16 yearsl
Minimal level of riding
Medium to advance
Maximal rider weight
90 kg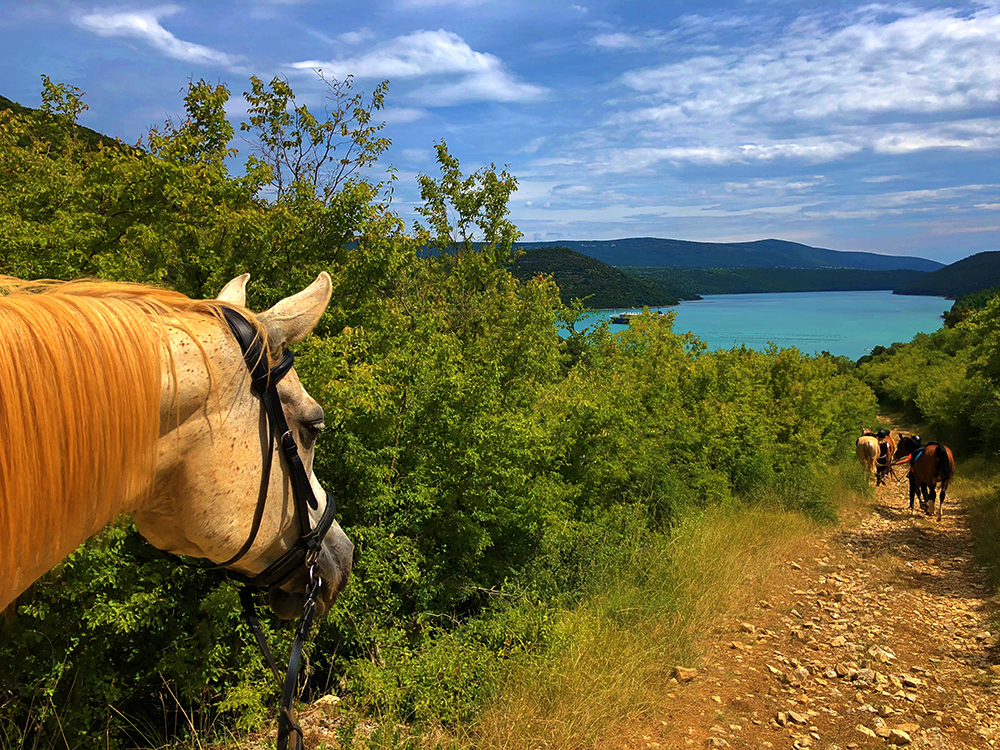 Horses are mainly Arab horses, Arab crosses, English full-blood crosses, draft crosses and local breeds. Most of the horses you will ride were a part of movie scenes in famous films and series: Winnetou (new edition), Borgia, Casanova, La Femme Musketeer…

We specialise in small groups of 4-6 riders because we believe in ensuring you a high quality riding and personal attention for each guest. Istra is situated in the north-west of Croatia, close to the borders of Italy (only 3 hour ride to magnificent Venice). It is the green oasis of the Northern Adriatic. The coast and its surrounding islands are covered with pine woods that are famous for medicinal proprieties and their scent is magnificent.

Istra is divided into three main parts that characterise this peninsula: red Istra (west coast) earning its name because of the red iron rich soil, grey Istra (central Istra) with the typical grey soil that has a high clay content and white Istra (slopes of Učka mountain and east coast) because of the high cliffs, and rocky appearance, scarce soil with only low shrubs and oaks that can withstand high winds that bring sea salt. Istra is a unique place with lots of flora and fauna diversity. It is also rich with streams that flow to the sea trough deep valleys and gullies. Succulent truffle dishes, roman ruins, acropolis type towns and villages oppose to the characteristic little villages and towns at the sea shore give you an idea of the rich history of this peninsula.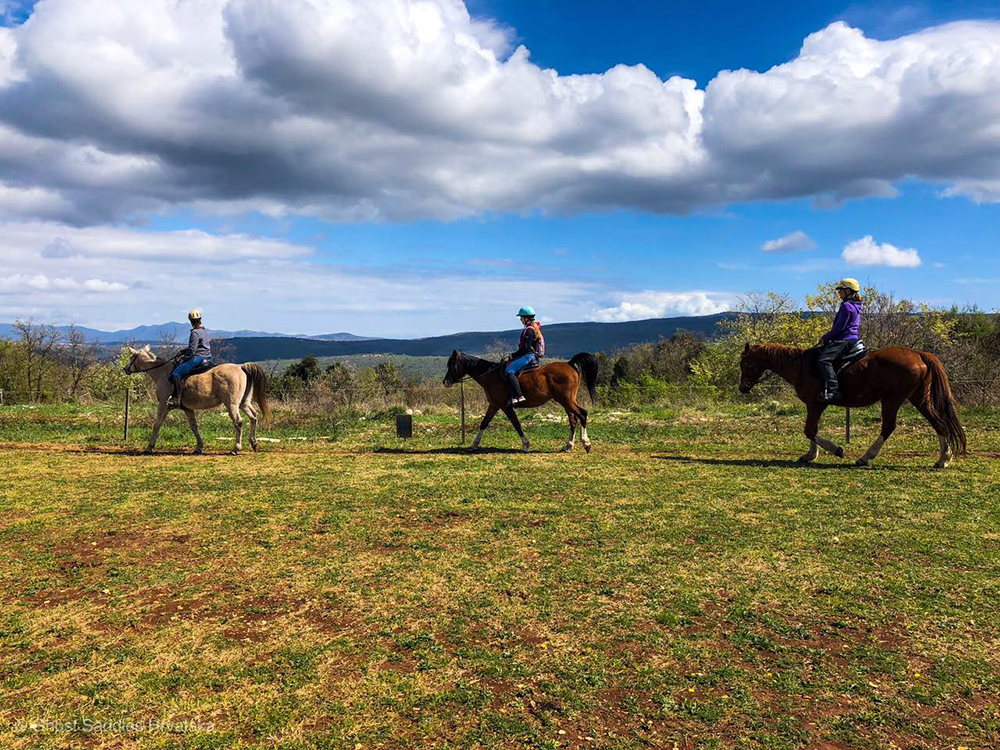 In the same day you can experience lush green valleys and fields, hills and forest with little streams, lake and river with slopes just to end up at the sea front. Off course there are always vineyards and olive groves that give that special little something to every ride. Carefully prepared meals cooked with best home grown vegetables, fresh fish and meat, seasoned with local herbs and high quality Istrian olive oil are medicine after long riding especially in combination with good glass of wine. There is a reason Itailan neighbours call this part of Croatia ''Terra Magica'' as it really is a magical part of the
Terra Magica will enchant you with beautiful, lush, unspoilt nature with plenty of wilderness and greenery. Here, life is pleasantly laid back and amicable locals welcome you throughout your ride.

Let yourself immerse in colours, scents and tastes of Istra and welcome to the unique little paradise.

The Mediterranean climate provides warm, dry summers and mild, pleasant winters. The average, daily-high temperature in the coldest months is 6ºC, whereas the warmest month's average 30ºC.

The riding programme offered is suitable for intermediate to advanced riders, comfortable in all paces and with experience of riding outdoors. A reasonable level of fitness is required. Emphasis is on the natural beauties of the Istrian hinterland with several cultural/historical points as part of the itinerary.
TREKKING TOURS IN 2019.
| | Date | Places avaliable | Guaranteed departures |
| --- | --- | --- | --- |
| | April 07. - 14. | 0 | yes |
| | April 21. - 28. | 0 | yes |
| | May 05. - 12. | 0 | yes |
| | May 19. - 26. | 0 | yes |
| | June 02. - 09. | 0 | yes |
| | June 09. - 16. | 0 | yes |
| | September 15. - 22. | 0 | yes |
| | September 22. - 29. | 1 | yes |
| | October 06. - 13. | 2 | yes |
| | October 13. - 20. | 6 | |
---
Christina W, Germany
" I really enjoyed your lovely place at Karnevali (indeed an oasis!), the excellent food, the all the little insights into Istrian culture and hospitality. The lovely horse (one of my top ten) and the good company of the group and Željko. In particular I appreciated the very attractive mixture of Istrian culture and riding and the fact that the horses were all so well looked after and healthy. "
Sue W., UK
" I was very surprised at how beautiful and unspoilt Istria is. The countryside is wonderful for horseriding. Your guide Željko is an experienced horseman and knows the area well. The horses are well trained by him and perfect for trail riding. The accommodation and food are first class. "
Erikka M, Finland
" Beautiful riding through unspoilt countryside, good company (we had a lot of fun) and plenty of tasty food - every meal was different. This is one that I would recommend others to take. "
Karin J, Sweden
" We had a great time with lovely rides through amazing countryside. I had a perfect horse and found the old trail saddles surprisingly comfy! Looking forward to the next time! "
Hilary T. UK
" We have been going on these Riding breaks for several years now, and think we can honestly say this was the best so far. Accommodation was excellent, food was delicious, and riding and horses were wonderful. The family worked really hard to make our holiday a success, and also the riding really showed us that area of Croatia, including visiting historical sites and lovely hilltop towns. Our thanks to Željko for the riding and Vanja for her lovely cooking! "
Previous
Next